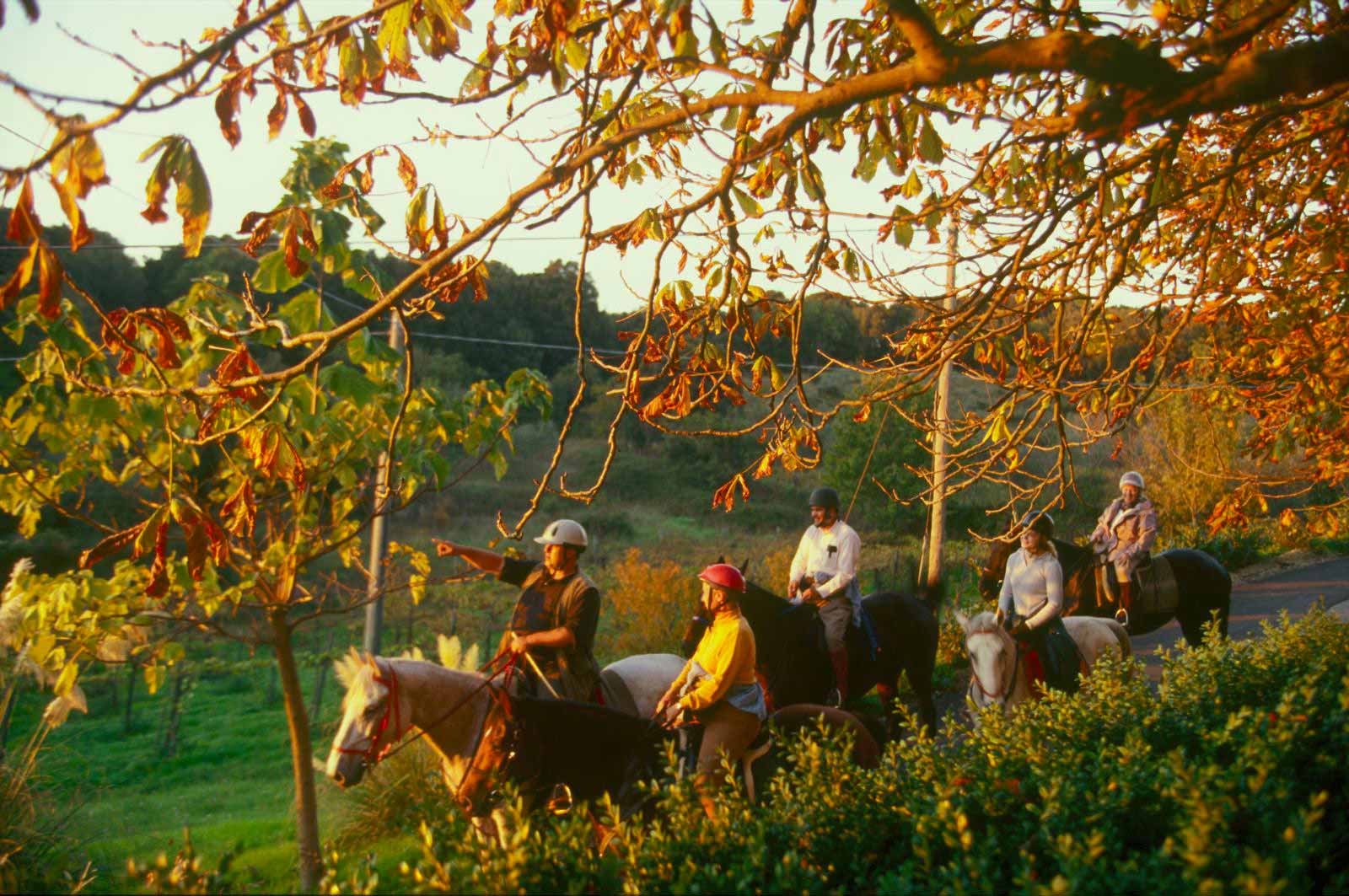 Home /

Activities / Horseback riding in autumn and winter
Horseback riding in autumn and winter
Villa Ferraia has its own private equestrian center on the property. We are able to propose equestrian experiences to our guests based on our 30 years of experience and our dedication and passion to horses. We have 15 specially selected and perfectly trained horses as well as several donkeys and a mule on the property. We can offer both Western and English style horseback riding.
Horseback riding in the months from October to March has numerous advantages, including the possibility to enjoy a ride without the excessive summer heat or the annoyance of flies to distract you from the beautiful scenery. On horseback, we will retrace the steps of medieval roads with our animals that are trustworthy, easygoing, and well trained.
Based on the preferences of our guests, we can arrange one, two, or several days dedicated to horseback riding, and include different types of experiences from recreational to educational. We can create a precise program to be able to follow a progressive path or a full-immersion experience. Or, following the philosophy of our winter offer, we can reap the benefits of having horses located right on the property and create experiences as the occasion arises based on the weather and happenings of the day. In fact, just tending to the daily needs of the horses can become an enjoyable task with unexpected outcomes.
Either way, the equestrian activities at Villa Ferraia are unforgettable, especially because the vast area that surrounds the villa is completely free of gates and other obstacles allowing for unfettered freedom on the numerous unpaved roads and paths. This offers guests the possibility to really experience the essence of this largely uncontaminated region. In the season from October to March the woods offer unexpected emotions, indeed as unexpected as the life that is teeming within. You will experience smells, colors, sounds and even tastes –such as chestnuts that have been found in our woods since ancient times and were once an important source of protein. The chestnuts still can be found today and attract wild animals that come to feed on them.
Our winter equestrian experiences are also aimed at individuals who have never had an opportunity to spend time with these splendid animals. In fact, we have animals that are specially trained to ensure a comfortable experience even for those who are getting to know these amazing creatures for the first time. Daily contact with horses can stimulate unexplored aspects of communication during which rationality gives way to instinct - an important and fundamental skill that all of us possess but that is often ignored because of the frenetic pace of our rational world.
Horses are honest animals, and perhaps honesty is one of the lessons that we can learn from them. Just the simple act of offering an apple can lead to the realization that relationships need mutual understanding and trust.