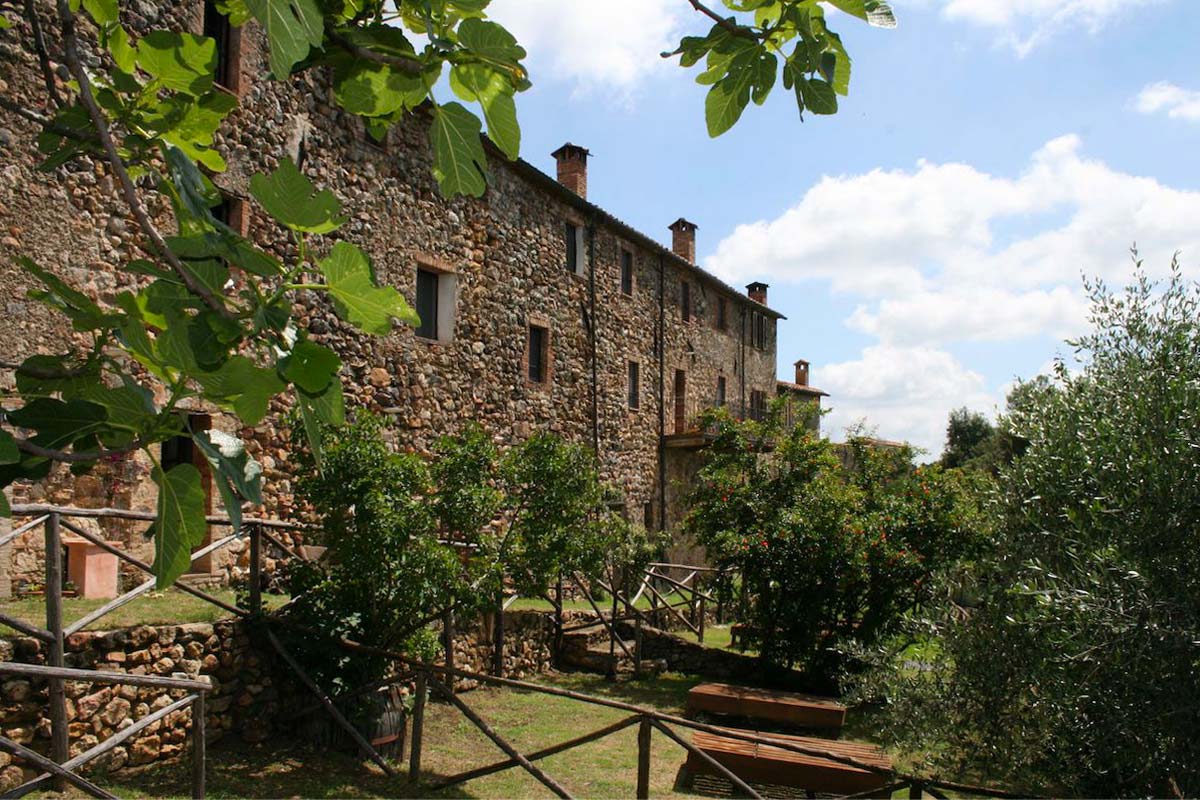 Home /

Hospitality / Castello di Tocchi
Castello di Tocchi
Castello di Tocchi is a medieval village dating from 1100. Despite being seriously involved by the wars between Florence and Siena, its medieval walls and the magnificent arched entrance have remained intact and still exude a certain antique charm. The views of the surrounding area take in mixed woodlands made up of oaks chestnuts and cork trees, and rolling hills dominated by the peak of Monte Amiata.
A holiday at Castello di Tocchi means having a base amongst the green Tuscan hills, a peaceful apartment where in the evenings you can relax in absolute tranquillity after spending your days exploring the numerous walks and pathways winding through the woods, following in the antique tracks of the medieval roads which connected Siena with the sea, or alternatively you can take part in a variety of activities organised with the help of our staff.
Guests can participate in a series of guided tours of any chosen towns, discover the local producers and the characteristic products they have to offer, take part in a cooking course run in the communal large room in the centre of the village or go horse riding (for those with experience).
The strategic position of the village means that it is easy to visit centres of historical and artistic interest such as Siena, Florence, Montalcino, Buonconvento, The Abbey of San Galgano, Pienza, Monteoliveto Maggiore or take a trip to the seaside, only 40 km away.
The apartments in the medieval village have been carefully restored with due regard to their historic character, keeping the stone walls intact.
Each apartment has been tastefully furnished and has all the comforts one would expect; kitchen, bathroom with shower and hairdryers, cosy living room with a log fire for intimate evenings or for getting together with friends.
At Castello di Tocchi you can enjoy a relaxing stay. It is entirely up to you when and if you wish to see the cities or visit the seaside.
An apartment suitable for two people, spacious and characteristic, it is located on the first floor,with a bedroom and a bathroom; there is a large living space with a log fire and kitchenette with dishwasher.

An apartment suitable for 4 people, located on the third floor. There is a large living room with kitchen, two bedrooms and a bathroom.


An apartment on three floors, suitable for eight people. There are four bedrooms each with an en suite bathroom, a big living room, kitchen and fireplace.